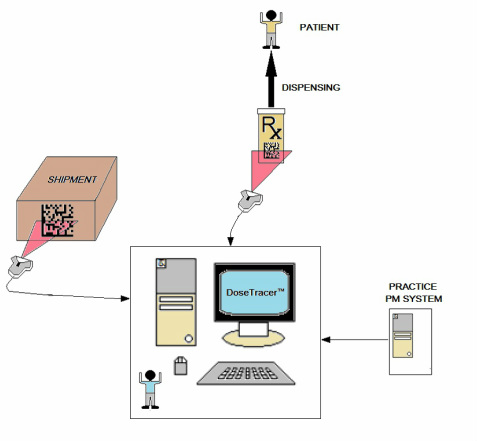 How does DoseTracer software work?
Enter order information upon receipt of shipment
Scan either the manufacturer provided 2D barcode or the serialized barcode label printed through DoseTracer software to register each dose into inventory
Scan dose at encounter to associate patient session data - date, patient ID, and product administered - with that unique dose
Why
DoseTracer software
?
Automatic notification of billing errors and billing omissions...
Billing data are read from standard daily reports that is generated by most existing PM systems
Those data are compared to the patient encounter data as recorded by DoseTracer software
All billing discrepancies - not billed, incorrect billing code, incorrect number of units billed - are identified and flagged for correction by staff
Drastically improve productivity with instant "state of the business" reporting...
Get live inventory status of all products in all locations
Track payment status of every dose by invoice number and/or dose ID. Easily reconcile receipts to invoice amount
View activity from any date or range of dates for easy cross-reference by medical or billing staff
Get instant email alerts triggered by numerous events (low inventory, dose expiration, inventory count errors,...)
Some of the many additional features...
One click billing information for the past year for selected patient
Sample and No Charge doses tracking and accounting
Ability to restrict user access to
Retail module for over the counter product sales
Flexibility to meet individual user requests
---